FULL COLOR PRINTING AT NO EXTRA COST!
High quality, value for money, fully customized NCR pads in multiple sizes. We have just what you need to fulfill all of your needs.
OUR NCR PADS - JUST BRILLIANT!
Our fully customized pads are made to make your business stand out with a professional and bespoke product whilst simultaneously making the admin tasks as easy as possible. They really are ... Just Brilliant!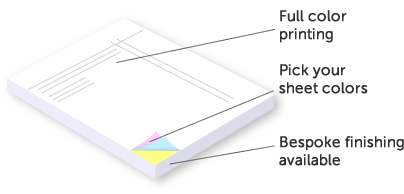 WHY CHOOSE US?
We are your fast, friendly & efficient printing company ready to help with all of your stationary printing needs. Below are just some of the reasons that make us truly unique.
Friendly and helpful service, we're always here to help!
Bespoke Color NCR stationary
We only use quality premium paper stock
'Small order' friendly, we don't make you buy loads
Products made here in the USA with pride!
We'll ship to all of the USA
CUSTOMIZE YOUR PRODUCTS, IT'S SIMPLE!
Using our online product builder, you can select all the features you want with our visually guided ordering system.
STEP 1

Go to our product customize widget page

STEP 2

Choose the options for your perfect product

STEP 3

Your products are printed and quality checked

STEP 4

Your products are delivered to you - simple!